Drafting your basic bodies pattern as a beginner is an exciting activity.
To do that however you need to know how to use pattern drafting tools.
This blog post is about basic body block pattern drafting for the beginner .
You can also take a look at how you can buy custom body blocks. These you can upgrade to your very own size.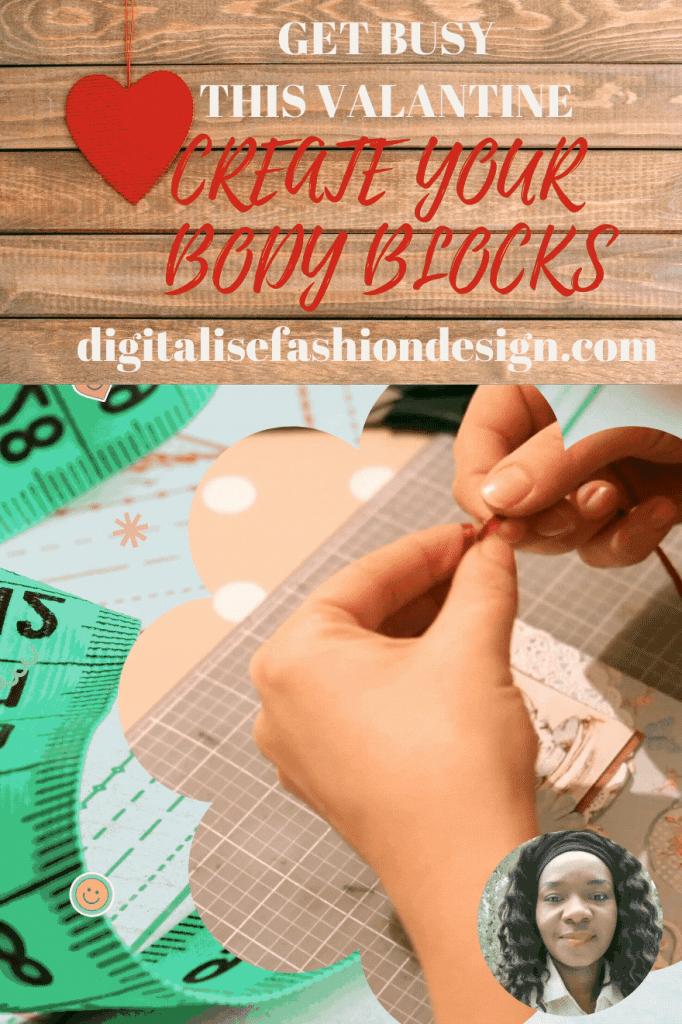 If you dont know anything about pattern drafting ,
no problem I have you covered.I have a detailed blogpost on pattern drafting for the beginner
Before we start, bare in mind that basic body blocks is made up of ;
Top front ,top back .hands,front skirt,back skirt.
So get your sewing room ready and your pattern tools in place.
Let's starts to draft our pattern.
This blog post contains affiliate links, which when you click and purchase a product will earn me a commission at no cost to you.Please note that I have worked with this products and that is why I recommend them to you.I have found them to be quite useful in my sewing projects
TAKE YOUR MEASURMENTS
Taking proper body measurements is the key to creating your body blocks. This is so vital I cannot emphasise it enough. This body blocks are going to be the foundation from which other styles can be derived from.
To start this project, take your body measurements.
The measurements you are going to need include;
Shoulder to shoulder measurement/ 2
Shoulder to bust measurement
Full bust measurement ÷ 4
Shoulder to waist measurement
Armhole measurement ÷ 2
Nipple to nipple measurement
Shoulder to hips measurement
Waist circumference measurement ÷ 4
Hip circumference measurement ÷ 4
All the measurements I'm going to use in this block is in centimetres. To convert your measurements to inches,multiply by 2.5.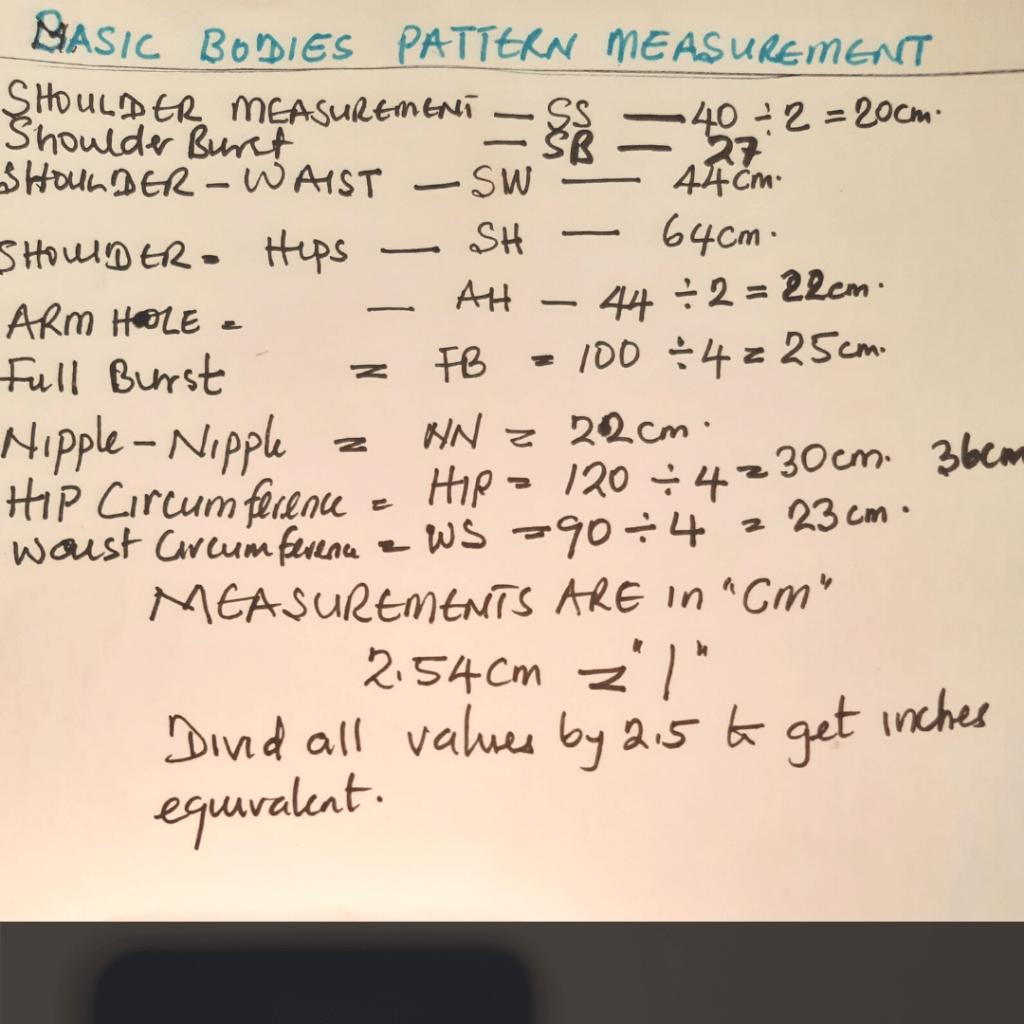 FIRST STEP IN DRAWING YOUR BACK AND FRONT BASIC BODIES PATTERN
Before we start,other items you need include
pattern paper
Tape
Marker
Straight and curved rulers
Scissors
Cutting board, Sheeth containing your body measurements.
Fold your pattern paper into two according to these dimensions;
The width equal to your hips circumference measurement ÷ 4 plus 6 cm
The length equal to your shoulder to hips measurements plus 6 cm.
Fold one side of double pattern inwards by 5cm.Draw 4 horizontal lines
shoulder line,burst line,waist line,hip line.
Mark neck width 7.6cm and neck dept 7.6cm.Use your curved ruler to conect your dots to form the neck curve.
Mark your shoulder mesurement.From shoulder point,come down by 2.5cm to form the shoulder slope.
Divide your armhole circumference by 2 (or full burst circumference divide by 6+4)Draw from shoulder drop downwards.
From there,draw a horizontal line.That is your chest or upper burst measurement.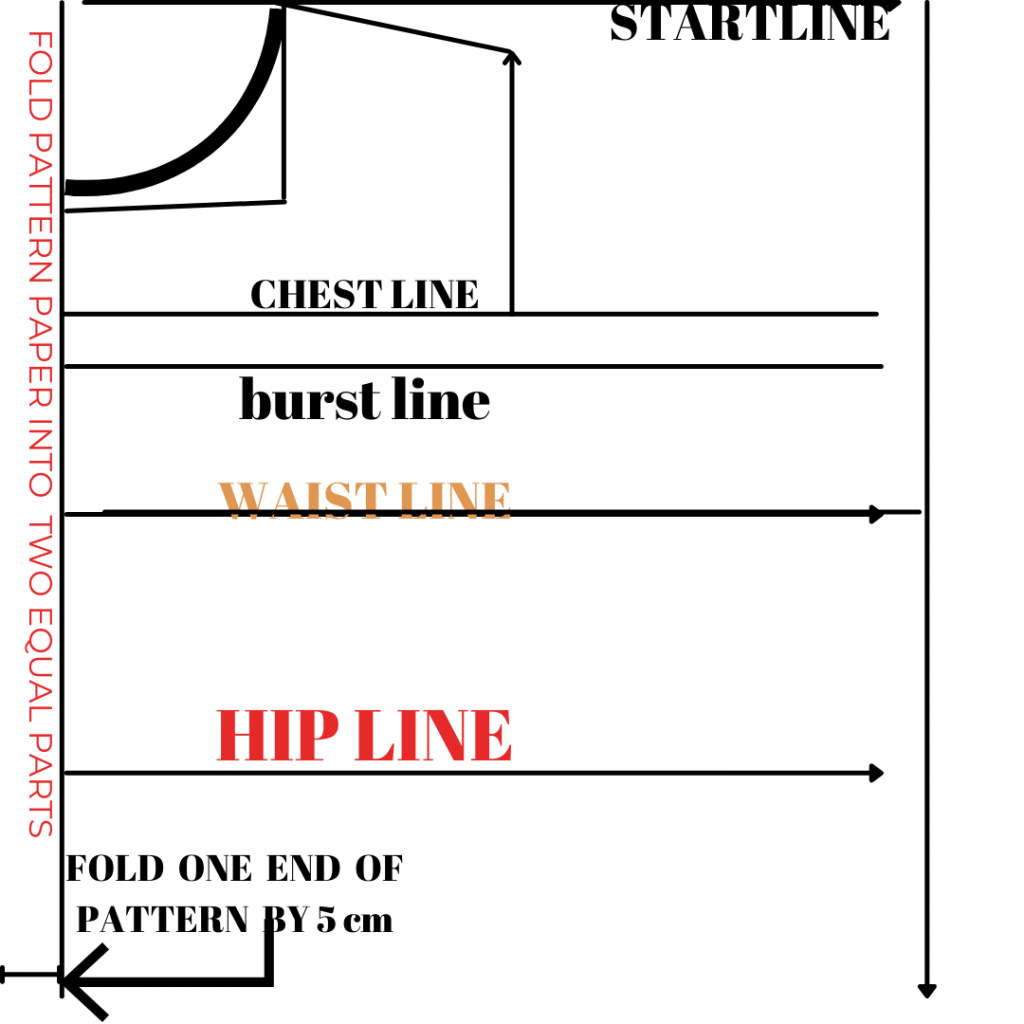 CREATING THE ARMHOLE
Find midpoint of armhole dept.Mark 2cm inwards.Use your curve ruler to join the shoulder point to the midpoint and the midpoint to armpit debt curve.
That is for the front armhole curve.
For the back pattern armhole,JOIN SHOULDER POINT TO ARMHOLE MIDPOINT WITH A STRAIGHT LINE.Then midpoint to armpit curve with your curved ruler.Watch the video below to fully understand
CREATING THE SIDE AND CENTER DART
The next thing is to divide your nipple to nipple measurement by 2.Starting from folded end, place that measurement on the burst line and hip line.
Connect the two points.
From burst point,come down by 2.5cm.That is where your dart will start.
From hip point come up with 5cm.That is where your dart will stop.Take 1.2cm on waist point on both side.Join all the points.
Divide your Burst,waist and hip circumference by 4 .Mark the measurment on the corresponding points .Join points together to finally shape your pattern
For the side dart ,find mindpoint between chest line and waist line ,mark it.
Draw a straight line from there to nipple point.Come down 2.5cm away from nipple point along the line you have drawn.mark 1.3cm on both sides of the midpoint between chest line and waist line.
Conect the points to form the side dart.
PREPARING YOUR PATTERN FOR CUTTING.
Since we have taken out 2.5 cm from the side as the dart ,we need to return the lost 2.5 cm to the front heamline.
Using a roller,transfer all darts and points to back panel.Trace the 2.5 cm for the back pannel .Then cut it off from the front pannel.
Create the neck dept by droping down 2.5cm.This is the basic neck drop.
Add your seam allowance of 2.5cm at the sides and 1.3cm on shoulder line and heam line.This however is optional.
Cut off your back panel first.Shape up the neck and the sleeve of the front pannel.
Unfold the zipper allowance on the back pannel and extend the neckline to the end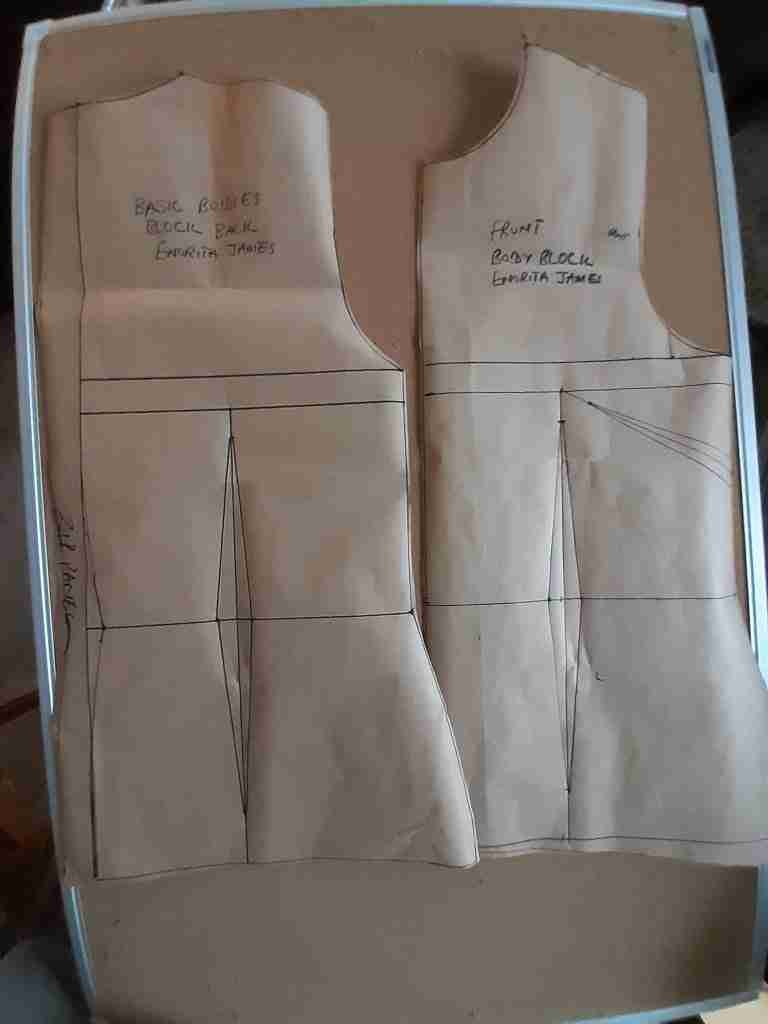 CONCLUSION
Congratulations for completing your front and back bodies pattern.Hope it was not too difficult for you.Did you encounter any challange?
Let me know by commenting below.
As appreciation for reading to the end ,click below to download costom body blocks for sizes 6 to 18 just for you.

Dont forget to follow me on pinterest.